We believe in happy dogs, positive + fun training sessions, & clear communication between you & your dog
Do you want to see your dog understand what you are asking them to do and do it with enthusiasm? Would it excite you to watch your dog transform from a jumping, barking, inappropriate nut into a polite, pleasant companion who happily hangs out with the family and your guests? We want the same exact things!

We don't focus solely on the sit and stay, but more on building your relationship and strengthening teamwork with your dog. Regardless if you are looking to compete in Obedience or Rally or master the basic manners, we can help you achieve your goals with your awesome dog!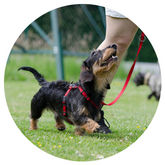 Beginner Training
Beginner training for pets is vital. Dogs aim to please, so with these beginner techniques and techniques, they will certainly offer your pet dog's opportunities to make you delighted. Our courses begin with the conventional sit, stay and come. Yet as your pet dog advancements, we provide more challenging demands that are supplied in our various other programs! These are designed to maintain your pet involved and on their toes.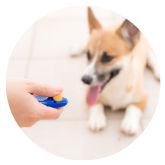 Clicker Training
We provide clicker training! Clicker training, or markand reward, is a kind of positive reinforcement dog training. The clicker or marker communicates the exact minute your dog does what you want. The timing of the click is essential and every click should be complied with by a benefit. This is an great form of positive reinfocement for your pup!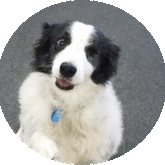 Differently Abled Dog Training
Meet Checkers. She is missing one eye, and one leg. She excels in obedience and has started on her nose work journey. Dogs with disabilities or physical obstacles are fantastic additions to any type of family and they are just as with the ability of playing a lot of the very same sports as abled pets. Tripod doggies and also blind pet dogs can play lots of sports such as rally, nose work, and also obedience. Deaf pet dogs can play dexterity in addition to the various other sporting activities detailed. We can aid your pet with impairments shine! To find out more call us at [Phone Number].


House Breaking & Potty Training
House training your young puppy has to do with uniformity, patience, and favorable reinforcement. The goal is to impart great practices as well as construct a loving bond with your animal.
Experts recommend that you start home training your young puppy when they are in between 12 weeks and 16 weeks old. At that point, they have sufficient control of their bladder as well as bowel movements to discover to hold it. With Two Dogs Pet Services's expertise, we offer you the tools as well as techniques to ideal residence train your brand-new furever friend.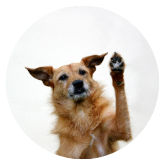 Obedience Training
Our obedience system is based on enjoyable involvements that construct focus. A excellent initial class that teaches straightforward hints like rest, come, and stay. Two Dogs Pet Services is committed to promoting a favorable relationship between you and your pet dog via clear communication and also training devices. We love assisting your pups reach their complete potential and also accomplish tranquility and also harmony as loving participants of your family members.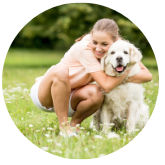 Positive Reinforcement
Two Dogs Pet Services training program uses ONLY positive reinforcement pet training methods. Some pet dog training companies that offer "Board and train" will certainly do whatever it requires to obtain fast results with your pet dog consisting of using choke chains and also shock collars. Two Dogs Pet Services does NOT use any sort of aversive dog training strategies on your pup unless particularly requested by you and also concurred by us in advance.


Puppy Training
Registering in pup courses prior to 3 months old can be an outstanding means of enhancing training, strengthening the human-animal bond, and socializing young puppies in an atmosphere where danger of disease can be lessened. As a whole, young puppies can start puppy socializing classes as very early as 7-8 weeks of age. Puppy socializing classes use a risk-free as well as well organized means of socializing young puppies as well as faster improve their responsiveness to requests. Early as well as adequate pup socializing and also programs of favorable dog training can go a long way to avoid behavior problems as well as boosting bonding in between human beings and pets. While the first three months is the most essential puppy socialization duration in a pup's life, owners of puppies that have passed this milestone are strongly motivated to continue to mingle their young puppies to as many people, animals, as well as places as sensible.

We Love Our Clients and Their Pets Love Us
Proudly serving pet parents in Monrovia, Arcadia, Bradbury & Duarte.
Providing the Highest Level of Pet Care Near Monrovia, CA for Over 30 Years!
We Provide Pet Care Services 24/7/365 to Our Clients